Chelsea Education Group
Chelsea Education Group is a consortium of education institution brought together by a common purpose: to give students the necessary skills for an extraordinary life through Education. Chelsea Education Group was founded in 2021. The group has a collection of products that are unique in itself. Chelsea Education Group has brought a team of individuals driven by the same purpose. The student is at the heart of our business. Our values are the common thread at the heart of everything we do as a family. They bind us together and help us stick to whats's essential.Whether students choose to study in one of our online schools or attend our Anglia Examination centres, Chelsea Education Group promises to help students achieve their goals through expert teachers. . We work closely with regulatory and awarding bodies to ensure that everyone in the Chelsea Education Group delivers the highest possible standards.We believe that education should be enjoyable and engaging whether students are learning a language, starting their secondary or higher education.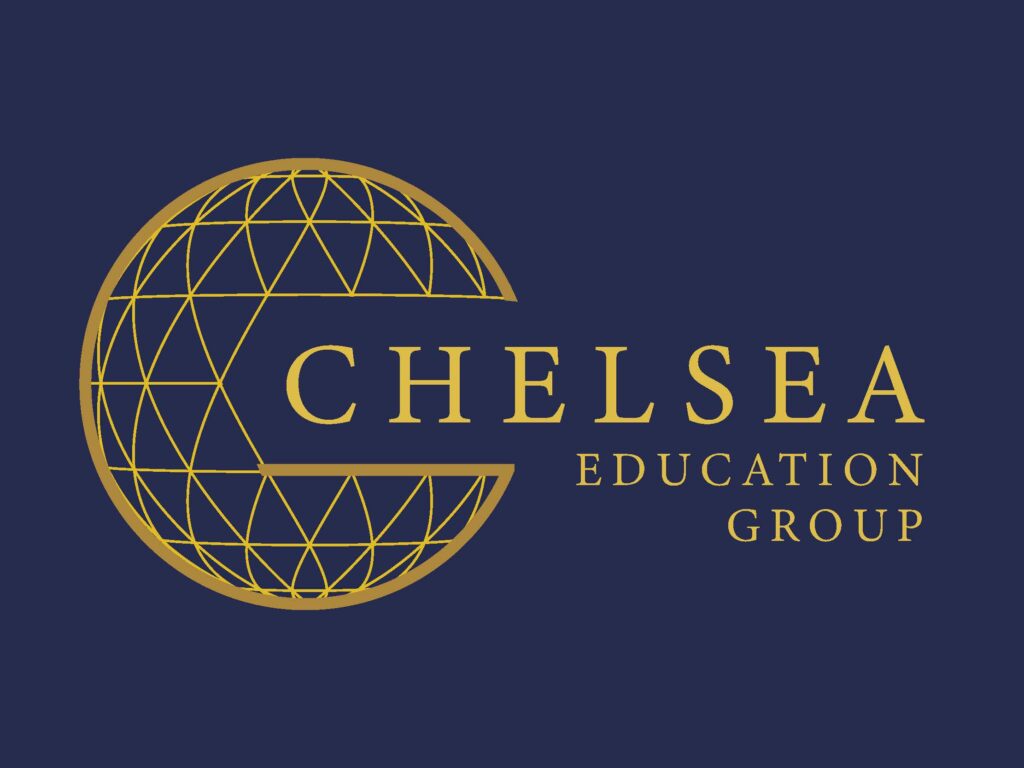 Chelsea Business School
Welcome to Chelsea Business School, where we offer exceptional student support and a caring environment with rigorous teaching. The keys to CBS success are high academic standards and the highly qualified and dedicated staff, who believe in helping students fulfil their potential through Education.
If you are considering studying for a job-oriented university degree in Business and Management, congratulations, you have come to the right place. You have taken the first step towards achieving your goal.
Here at Chelsea Business School, we understand that studying business can require additional flexibility, particularly if you already have a full-time job or run your own company. We go the extra mile to ensure that if you want to join one of our courses, we'll do our best to offer a solution that considers your existing commitments while still providing you with expert support and tuition. 
Oxford Online School
We are an innovative, fully online school aiming to reach out to students from all over the world through our expertly designed teaching and learning platforms.
Our teaching and administrative staff have been carefully selected for their commitment to the objectives of meaningful learning and have created lessons and activities using the latest remote-learning techniques to achieve this.
All students will receive the highest-quality learning experience. Our aim is to combine the same dynamic of face-to-face lessons with the convenience and flexibility of remote access.
Our aim is to provide a distinctive and exceptional online learning experience using the widely renowned British curriculum. We have partnered with Pearson Connex to ensure that our students' courses bring qualifications and assessments of internationally high regard.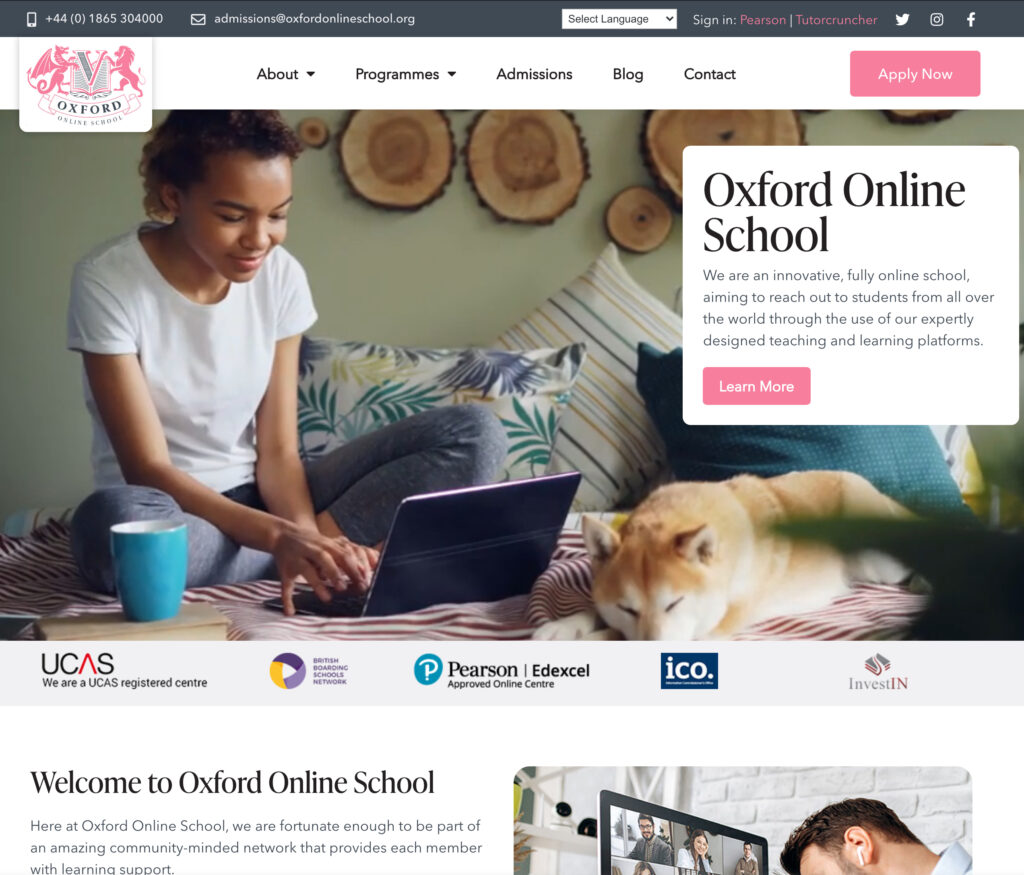 CEC-Anglia
Chelsea Education Consultancy (CEC) is the Anglia franchisee for CIS Countries –Russia, Armenia, Azerbaijan, Kyrgyzstan, Kazakhstan, Tajikistan, and Uzbekistan.CEC has been in the education sector for more than 15 years, placing hundreds of students into UK Boarding schools and universities while guiding students to grow into professionals.
The CEC team, known as Anglia CIS, has now embarked to the next level in its offerings to give opportunities to thousands of people to master the international language of business and communication with top English training and assessment.
Anglia CIS has local teams based in each CIS country that it offers Anglia Examination and coordinated from its main office- in Oxford, UK. CEC's number of local franchise distribution networks is growing rapidly in these countries, enabling more significant opportunities for students and adults to access the option to master English recognized internationally.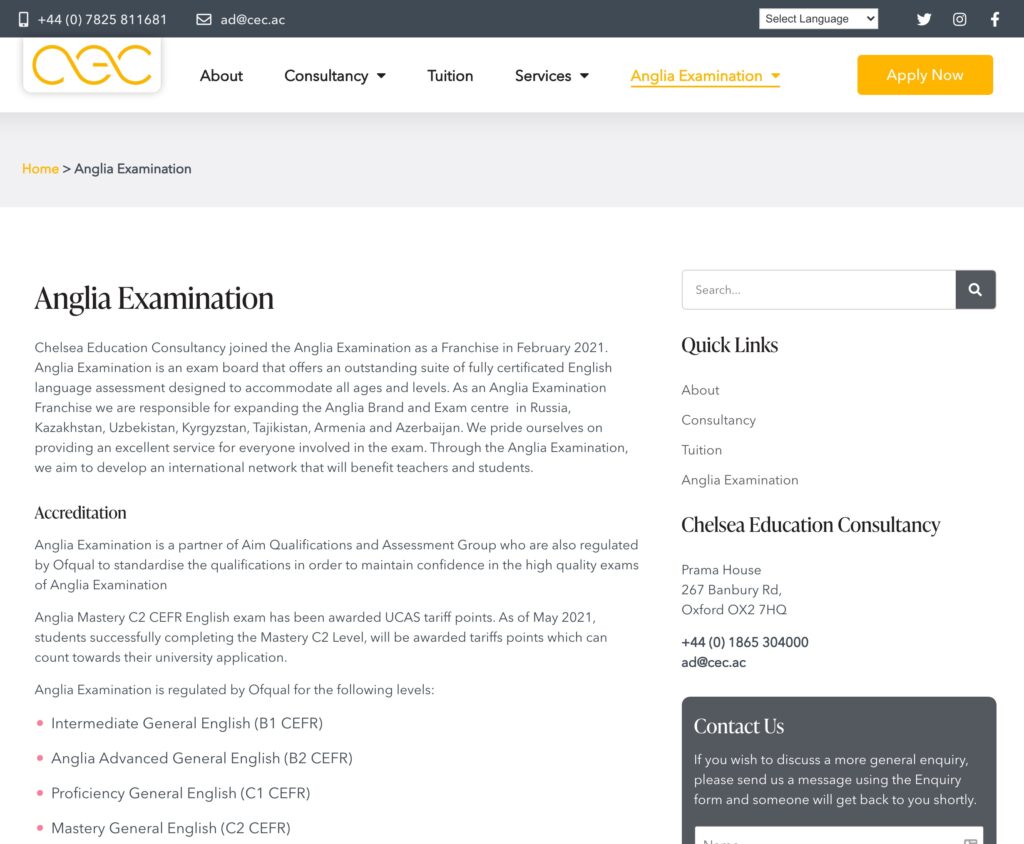 Chelsea Education Consultancy
Chelsea Education Consultancy has been in the education sector for more than 15 years placing hundreds of students into UK Boarding schools and universities while guiding students to grow into professionals.
The purpose of the consultancy is to provide high-quality consultancy services to international students. Since it's opening, we have provided the best educational support services, from tuition to assessment and consultancy services to students from Russia, Kazakhstan, Ukraine, Armenia, Kyrgyzstan, Uzbekistan, UAE, Kuwait, Jordan, Qatar, Oman, Egypt, Saudi Arabia, Albania, Lithuania, Argentina, France, Spain and Italy.
Chelsea Education Consultancy  is part of Chelsea Education Group, which owns Chelsea Business School and Oxford Online School. Chelsea Education Group has brought a team of individuals driven by the same purpose. The student is at the heart of our business. Our values are the common thread at the heart of everything we do as a family. They bind us together and help us stick to whats's essential.In addition, the company is a Franchise of Anglia Examination